Friday, June 8th, 2007
No, not a German reference or a synthpop band, but rather the new order was a shipment of products that came in today from Quixtar. What did Al order? Let's have a look!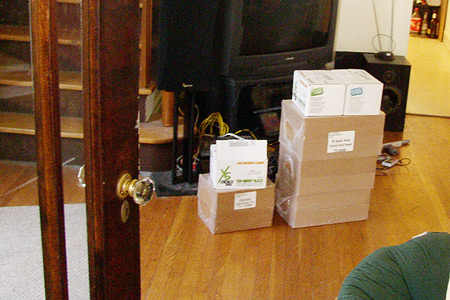 Door of Opportunity is Open!
Most of these boxes contained energy drinks. According to Al, these energy drinks rival Red Bull in sales, ranking in at number 2. I have no official source of information on this, but there is a large suspicion that the Quixtar IBOs are the reason for this.
 As mentioned elsewhere, most IBOs wind up buying from themselves as a tactic to improve their sales records. It have been suggested that many of these self-patrons make up the largest percentage of their total sales.
This order seems to be for:
$ 30.00 = 24 Clearly Fruit Punch XS Sports Drink
$ 24.99 = 24 Zsenso Iced Green Tea
$ 39.99 = 24 Seismic Super Juice
$ 23.99 = 12 Tropical Blast XS Energy Drink
$ 47.98 = 24 Tea-Berry Blast XS Energy Drink
————————————————–
$166.95 Total Bought [This price does not included shipping costs]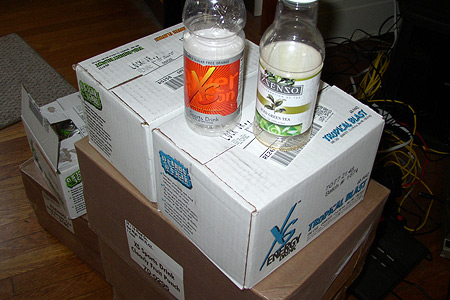 Golly! Al must be really thirsty!